Bios
Here's a little information about the band members that they would like to share with you. If you want to know more click here to view our calendar and come out to a show and ask them yourself.
John Vasalakis - Lead Vocals.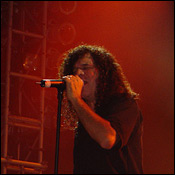 John moved to the Bay area from Indiana in the mid 70's and played for 10 years with HOOCHIE opening for and headlining concert bills that include Aerosmith, Ted Nugent, Tom Petty & the Heartbreakers, Cheap Trick, Blackfoot, Patti Smith, Gentle Giant and others.
Formed PORTRAIT with Bad Company's former bass player and pounded the local scene for years. Also played with HooChie, HIRED GUN, FASTRAC, and DRAMA.
Influences: Genesis, Kansas, Beatles and YES.
Rick Moon - Guitar, Vocals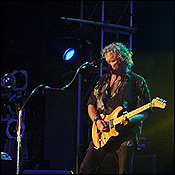 Rick started out singing on Wall Street during the Stock Market crash at the age of 14 in 1929 for 3 dollars! When people started jumping out of windows he thought it was because he couldn't carry a note, that's when he decided to take up playing the guitar. His first band, The Rhythm Hot Shots, played main stream dance music for the young kids to dance the Charleston. After that he was off to Atlanta, Georgia to form the show band "Deep South". They toured the US and Canada playing festivals and opening for many circus acts. From 1977-79, they settled in a home for retired musicians in Daytona Beach, Florida until one day Rick decided it was time to move on, got a hair transplant, a hip replaced and started the band Stormbringer.
Favorite quote - "You can't dance if the fish ain't bitin'." Nickname - P.O.S. (ask him what it stands for)
Influences: Joe Walsh, Jeff Beck, Mick Abrahams, Billy Joel, Little Feat, John Farnham and of course Tim Andras.
Dana Newcomer - Drums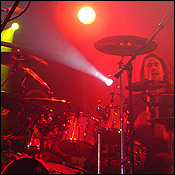 Dana studied at Ohio University and West Virginia University. Played and recorded on jingles for 7-11, Napa Auto and other companies, as well as some country and rock albums while head engineer at Music Factory Studios in West Virginia.
Played with WATTZ NEXT, INVASION, and more recently, SEQUEL - a 7-piece show band.
Influences: Neil Peart, Buddy Rich and Jon Bonham.
Eddie Pecchio - Bass, Vocals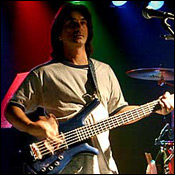 Youngstown, Ohio lays claim to recorded music's most prolific bassist Chuck Rainey, as well as Daniel Pecchio (Glass Harp, Michael Stanley Band) and younger brother Eddie Pecchio. Eddie won a songwriting contest in the late seventies and then made his first of two albums with Cleveland's Jonah Koslen and the Heros. Eddie moved to Florida and spent 2 years in local phenomenon Deloris Telescope. The early nineties saw Pecchio join Stormbringer/Steinhart-Moon.
Eddie disappeared for a few years and then decided to come back to Stormbringer even though Rick Moon is still in the band..
John Zahner - Keyboards, Vocals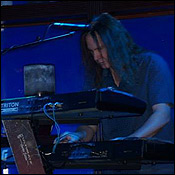 John has been involved with numerous bands and recordings in the Tampa area. John is a founding member of Jon Oliva's Pain and toured with them in the US and Europe, including shows in Norway, Denmark Germany, Austria, Switzerland, Italy, Spain, Greece and Holland. He was also a member of the band Steinhardt Moon/Stormbringer before leaving to go on tour but eventually found his way back to Stormbringer in 2013.
Influences: Mozart, Beethoven, Yes, ELP, Dream Theater, Genesis, King Crimson,, The Beatles, Kansas and Opeth.